Cargo nets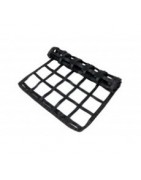 This product is intended to protect the transported loads, guaranteeing their safety and protecting them against theft. It's made with the most reliable raw materials and it's submitted to the most demanding tests according to the legislation, international references, and customer requirements.
 
Delivery time: 5 working days for Continental Portugal and to be defined on a case-by-case basis for other locations.
 
*In addition to the products available in this store, KNOT has a larger portfolio, which will be available soon. If you need any product that you do not find here, feel free to contact us and we will certainly provide you the solution.